Disclaimer: Ben & Jerry's sent me free pints of the Topped line prior to their release. Receiving free product didn't affect my review, as I've poo-pooed plenty of products I received for free. 
When it comes to ice cream in the freezer aisle, Ben & Jerry's can't be topped.
Or CAN it?!!?
Ben & Jerry's Topped
Look, we all know the ice cream itself is great, but what keeps us coming back to Ben & Jerry's? It's the load of mix-ins swimming freely throughout the pint (well, maybe not freely… picture a bunch of chubby kids crashing into each other inside an inflatable pool). Ben & Jerry's knows this too, so you know what they did? They said f*ck it, we're not even gonna make you wait; we're just gonna throw a bunch right on top.
Introducing Ben & Jerry's Topped, a new line of seven loaded pints that have a layer of spoonable chocolatey ganache (and sometimes other mix-ins) greeting you immediately under the lid.
Looks like I'm gonna need a bigger inflatable swimming pool!!
This review is part of a series. Today's Ben & Jerry's Topped flavor is:
Ben & Jerry's Topped – Salted Caramel Brownie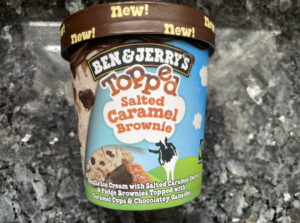 Ben & Jerry's Topped Salted Caramel Brownie features vanilla ice cream with salted caramel swirls and fudge brownies, all topped with caramel cups & a chocolatey ganache.
It's brownies à la mode, à la salted caramel, à la ganache.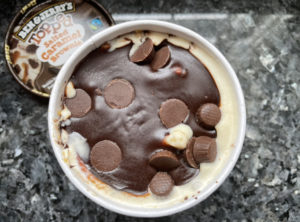 Right off the bat, the chocolatey ganache is very impressive. It's much thicker and more decadent than the "crackly" candy shell in Magnum pints, and offers a rich and and creamy chocolate flavor. It starts out a little hard straight out of the freezer but is still spoonable, and it continues to soften further as it tempers.
Bravo to B&J's on this ganache. 👏
On top of that you have caramel cups – basically Reese's cups but filled with caramel instead of peanut butter. This isn't a mix-in Ben & Jerry's uses often and I must say I really enjoy them, as you get a big burst of caramel that you can actually taste. They'll leave you begging for more, but you'll have to be careful to portion them appropriately because they're limited to the top.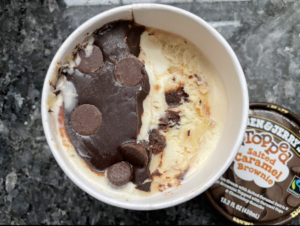 Underneath, you have your basic vanilla ice cream. It's as traditional as can be, and Salted Caramel Brownie is the only flavor in the Topped line that features it. So, if you just loooove vanilla and want to try the ganache, this is your flavor.
Mine had a good deal of fudge brownies which are of course a classic pairing with vanilla ice cream. But mine only had thin swirls of salted caramel without any pools of it. This is where I really wish the caramel cups were mixed throughout the base, because I found this got pretty boring underneath the top layer. Without a strong presence from the salted caramel, I think I would have rather eaten other brownie flavors like Brownie Batter Core or Half Baked.
How you choose to attack the ganache topping is up to you: you can gobble it all first like a candy bar appetizer, or break it up and portion it throughout the pint. I found the best way was to use a fork (yes, a fork) and eat down in sections, periodically breaking off a piece of the ganache to enjoy mixed with the ice cream.
The Ben & Jerry's Topped line is a bona fide winner in my book, but Salted Caramel Brownie is pretty basic.
Inflatable Swimming Pools Rating: 8 out of 10
Inflatable Swimming Pools After Your Fat Ass Breaks It Rating: 0 out of 10
Overall Rating: 6 out of 10
To keep up with all of our product finds and Junk Bantering in real time, follow us on social media at the links below!
Facebook: www.facebook.com/junkbanter
Instagram: www.instagram.com/junkbanter
Twitter: www.twitter.com/junkbanter
Snapchat: junkbanter
To contact us via e-mail, send a message to junkbanter@gmail.com