Forgive me for my crass, but have you ever eaten so much Cinnamon Toast Crunch that you had to poop your brains out?
We were thiiiisss close to a Cinnamon Toast Crunch where poop was the goal.
Cinnamon Toast Crunch Soft Baked Bars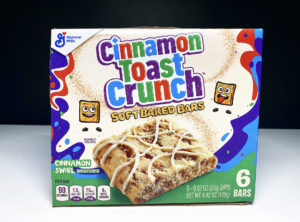 If these new Cinnamon Toast Crunch Soft Baked Bars look a lot like Fiber One bars to you, you're not alone and you're completely justified.
YOU SEE, Fiber One is owned by General Mills, who of course makes Cinnamon Toast Crunch. Now, Fiber One soft baked bars have historically been delicious. Somewhere along the way, they decided that 90 calories were too many and they knocked them down to 70 calories. Somewhere else along the way, they decided that people don't want to shit so much, so now they've removed the fiber, added the 20 calories back, and brought us these new Cinnamon Toast Crunch Soft Baked Bars and Lucky Charms Soft Baked Bars.
These flavors are for the people who prioritize taste over the ability to poop.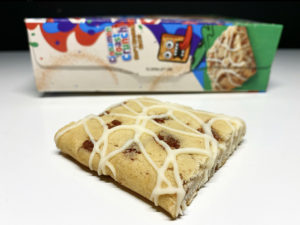 The Cinnamon Toast Crunch Soft Baked Bars are cinnamon swirl flavored "blondies" made with real cinnamon, little pockets of what I'm guessing is crystallized cinnamon sugar, and a white icing.
These smell like Cinnamon Toast Crunch big time, and the flavor is a pretty good approximation. The bars have a nice, dense chewiness like a really pillowy cookie, and then the little pockets add a tasty crunch. They pumped a good amount of these cinnamon sugar nuggets throughout to make every bite super enjoyable.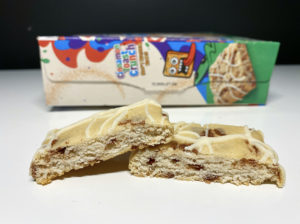 They remind me a bit of the Cinnamon Coffee Cake Fiber One bars back when they were 90 calories (they're worse now that they've been knocked down to 70). However, I definitely think these are an improvement without any lingering effects that the fiber may have added to the taste. They certainly do a better job of capturing the essence of Cinnamon Toast Crunch than the Lucky Charms Soft Baked Treats do Lucky Charms. Quite frankly, I love these.
Due to the similarity in look and feel that these bear resemblance to the Fiber One bars, it is worth repeating once again: these do not make you poop.
You'll have to stick to a regular diet of eating garbage to hep facilitate frequent trips to the can.
Burning Questions:
Hey, why do these look so much like Fiber One bars? Why don't you read my reviews?
Do you really want me to answer that? Nevermind.
I bet you poop a lot. We have a winner.
Place of Purchase: Walmart
Rating: 8.5 out of 10
To keep up with all of our product finds and Junk Bantering in real time, follow us on social media at the links below!
Facebook: www.facebook.com/junkbanter
Instagram: www.instagram.com/junkbanter
Twitter: www.twitter.com/junkbanter
Snapchat: junkbanter
To contact us via e-mail, send a message to junkbanter@gmail.com